Winner will receive $50 Foster & Smith gift certificate.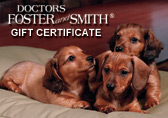 The Check List:
Register if you are not already a forum member.
Must have at least 5 quality posts on forum. Responses such as "that's nice" will not count. Write something meaningful.
Create a profile page for your cocker. If you have more than one we prefer you create one for each. Instructions can be found on this thread.
Submit your entry using our contact form. Make sure you are logged in too so I can see your membership info: Contact Form
Once we have a least 5 entries I'll start a thread for voting. Feel free to vote too. Profile page with most votes wins. Voting period will be one week.