| | |
| --- | --- |
| Name | Jesse James Cerra |
| Breed | American Cocker Spaniel |
| Sex | male, neutered |
| Age | 8 years |
| Home Page | Jesse & Winston |
| Location | Pennsylvania (US) |
Jesse's Info
I adopted Jesse on March 5, 2000 from the Cocker Spaniel Adoption Center in Maryland. Jesse came with baggage from his former life which he has overcome. He has become a sweetheart who loves to swim in lakes, rivers, & pools & most recently got to see the ocean.
He has become a member of our family & gets along exceptionally well with his Golden Retriever brother Winston. He is loved.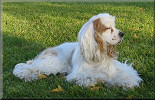 | | |
| --- | --- |
| Name | Sassy By Design |
| Breed | American Cocker Spaniel |
| Sex | female |
| Age | 18 months |
| Location | Sioux City, IA (US) |
Sassy's Info
My Cocker Spaniel is name Sassy. She is a red and white cocker spaniel as we all know, they come in many colors. Sassy's dad had 7 pts before taken out of the show ring, her mom was a Champion and so were her grand sires and grand dams. Her pedigree if full of Champions. She came to me by plane from California. I had purchased her off the internet. She has been a great dog and fit right in with our family as I have three boys and a husband. She loves sun bathing, fetch, laying on the bed and being next to all of us.