Quick Poll
Choose your favorite spaniel


Susie: 25.00%



Bella: 25.00%



Poochini: 50.00%

Total Votes: 44

Susie's Info
Susie is always posing for new pictures. She is the most playful little puppy in the world. I call her may Urban Camo girl. She is a Roan, with Gray, White, Chocolate. She is always giving kisses, and loves learning new tricks. This is the best American Cocker Spaniel I have ever know.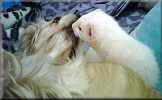 | | |
| --- | --- |
| Name | Miss Bella |
| Breed | English Cocker Spaniel |
| Sex | female |
| Age | 1.5 years |
| Location | Seattle, WA (US) |
Bella's Info
Bella 1 1/2 yr old just adopted by us, seems to just love us as much as we love her. As you can see she even gives kisses to our ferret daisy. Bella is very scared of strangers and especially men but not other animals. She is the biggest cuddle bug you will ever meet once she gets to know you.