Quick Poll
Choose your favorite spaniel


Riley&Murphy: 13.41%



Mulligan: 60.98%



Emma: 25.61%

Total Votes: 82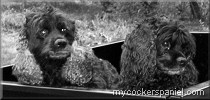 | | |
| --- | --- |
| Name | Riley & Murphy |
| Breed | American Cocker Spaniel |
| Sex | female |
| Age | 14, 7 years old |
| Location | Beausejour, Manitoba |
Riley & Murphy's Info
This is a picture of my two American Cocker Spaniels, Riley and Murphy. Riley is a 14 year old female that I rescued from the SPCA 11 years ago. She was turned in as a stray that had obviously just had a litter of pups. The pups were never found and she was never claimed. Riley has been a great friend over the years who has traveled all over North America with me as my "co-pilot" as I'm a long haul truck driver.
Murphy is also an American Cocker, who I bought from a breeder 7years ago. She was rejected by her mother and ended up being the runt of the litter. The breeder kept her alive by hand feeding her by bottle, and taking her to work in her lunch bag. As a result of being the runt, she came up a little short in her full grown size. Her best friend is Riley, and the often sleep and play together when we're at home.
This picture is of the "Girls" going for a ride around my property near Beausejour, Manitoba. Our personal mantra has been for a number of years "Living the life of Riley, by Murphy's Law"