| | |
| --- | --- |
| Name | Miss Bella |
| Breed | English Cocker Spaniel |
| Sex | female |
| Age | 1.5 years |
| Location | Seattle, WA (US) |
Bella's Info
Bella is the most cuddliest dog I have ever had, she doesnt just snuggle with you she will throw herself on you literally to cuddle. She is very skittish but loves her family with all her heart. We just adopted Bella about 3 weeks ago, she went from a kennel, an apartment to a house full of love and a huge backyard in which she loves. She loves to ride in the car, sit in the car seat when my nephew is not there and run the house. We have a ferret named daisy who roams free and Bella loves to chase her. My cat Timone will antagonize Bella in anyway she can and Bella tries so hard to play. I am glad we adopted her, she is a great addition.


| | |
| --- | --- |
| Name | Susie |
| Breed | Road Am. Cocker Spaniel |
| Sex | female |
| Age | 5 months |
| Location | California (US) |
Susie's Info
What to say about Susie. She is the best cocker in the world. She is unlike any other I have ever seen. Her Markings says it all. Susie is a wonder 5 months old cocker. She was house trained by the 3rd week we had her. When we left her alone she was put in the bathroom. She would not go on the floor she would jump into the bathtub and do her deed. She know all here tricks, we trained her in about a month to: Sit, Lay, Roll over, Crawl, fetch, give, shake, give high five, dance, kisses on command, and when she has to go out side, she does not bark she rings her bell and sits down and wait. She know stay and can walk with out a leash.
Susie loves to give kisses and have the greenest eyes. She is very playful and loves to run. She has jumped over everything we have put her in. I finally built a 5 foot pen and she is almost able to get out of that. She is a full breed cocker spaniel but i think she has some springer spaniel in her Ha Ha.


| | |
| --- | --- |
| Name | Archie |
| Breed | American Cocker Spaniel |
| Sex | male |
| Age | 4 years |
| Location | Mount Wolf, PA (US) |
Archie's Info
What a good boy! He always guards my shower in the morning and loves when I sing Good morning to you (to the tune of Happy Birthday). His tail wiggles so fast his whole body shakes. He is the perfect gentleman. This picture is just after a bath when his fur is still a little fluffy. We adopted Archie in January of 2003 and he has been our baby boy ever since.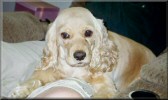 | | |
| --- | --- |
| Name | Laci |
| Breed | American Cocker Spaniel |
| Sex | female |
| Age | 3 years |
| Location | Hueysville, KY (US) |
Laci's Info
She has been such a joy to us! We almost lost her during a C-section and had to really nurse her back to health. Ever since then, she does not leave my husband lap and she loves to play with my son. She is so very intelligent; she opens the door, fetches anything we ask her too, opens the refrigerator, and tells us when she has to go out by barking. She also jumps in the car when I ask her if she wants to go "bye-bye". Laci loves to play with her sister Lola, and they fight over our male cocker, Sam. Definitely a love triangle! This dog is such a joy to us!
Kristie