Quick Poll
Choose your favorite spaniel


Dopey: 23.84%



Emma: 9.27%



Daisie: 39.74%



Poochini: 27.15%

Total Votes: 151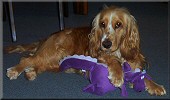 | | |
| --- | --- |
| Name | Dopey |
| Breed | English Cocker Spaniel |
| Sex | male |
| Age | 2.8 year |
| Location | Queensland, Australia |
Dopey's Info
Dopey is very playful and loves to play with a balloon, picking it up on the end. (Only showed him once how to pick it up) He does not burst the balloon. Runs around the dining room table wanting me to catch him. We just love him to bits, and he is definitely the third child in the family.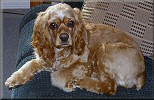 | | |
| --- | --- |
| Name | Emma |
| Breed | Cocker Spaniel |
| Sex | female |
| Age | 7 months |
| Location | Mackenzie, BC (CA) |
Emma's Info
she is a sweet girl was a wonderful gift from our daughter & son last year after our old fellow passed a way at age of 15. she has fit into our family of my hubby and I perfectly has turned in to a little princess. I realize now that cockers are so smart she remembers what times her walks are, what time bed time is she tells me o.k turn off the lights its time for bed by creeping backwards on the floor and talking to me is so funny, I turn them off and she goes down the hall jumps on the bed.