Quick Poll
Choose your favorite spaniel


Tristan: 42.11%



Electra: 57.89%
Total Votes: 19
| | |
| --- | --- |
| Name | Tristan |
| Breed | American Cocker Spaniel |
| Sex | male |
| Age | 1year |
| Location | Kingsburg, CA (US) |
Tristan's Bio
When I adopted my first ACS Tessa she left behind her littermate Tristan. He missed her terribly. I kept looking at his picture. As happy as I was with his sister I just couldn't get him off my mind. I knew he was to be rehomed also and they may never see each other again. From birth these two were always together. Well two months later I gave in and Tristan joined us. He is the sweetest little guy and such a little clown. When I look at his adoring little eyes I know that he was meant to be here with us.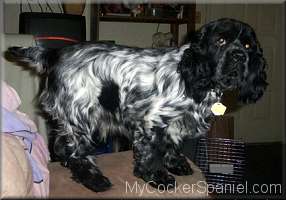 | | |
| --- | --- |
| Name | Electra |
| Breed | American Cocker Spaniel |
| Sex | female |
| Age | 7 weeks |
| Location | Oklahoma City, OK (US) |
Electra's Bio
This is little "Electra" she was born in OKC and will be in training for "Service". She is a black/white Parti. She is very special and hope to one day place her with a special child in need of Electras assistance.