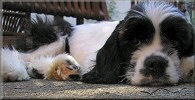 | | |
| --- | --- |
| Name | Sophie |
| Breed | American Cocker Spaniel |
| Sex | female |
| Age | 6 months |
| Location | NykÝbing Falster, Denmark |
Sophie's (Galaksi Love Drug) Info
Sophie is a very sweet but very naughty puppy, if there is trouble to be found she will find it. She stole underpants from the washing basket and paraded into the office wearing them, in between tears of laughter I managed to take her photo. She is from the top Danish cocker breeder Galaksi and will be going to her first show in a couple months.


| | |
| --- | --- |
| Name | Tucker |
| Breed | American Cocker Spaniel |
| Sex | male |
| Age | 9 months old |
| Location | Almond, WI (US) |
Tucker's Info
This is our puppy, Tucker. He is the most loveable puppy ever! He just loves everyone and loves to snuggle and cuddle. We brought this cute little pup home when he was 8 weeks old. He loves to play outdoors and go for walks. He has also discovered that camping is a really fun thing to do too. His favorite toys are balls and squeaky toys. He also loves to play with the cats, but for some reason they don't want to play with him. We just love this puppy very much!


| | |
| --- | --- |
| Name | Pepper |
| Breed | American Cocker Spaniel |
| Sex | male |
| Age | 1 year |
| Location | Ontario, CA (US) |
Pepper's Info
Hummm... let's see where do I start to describe humans' best friend? Besides being the best buddy I could ever have, my little pal has adopted many names from Handsimus Maximus, Nakey Snakey, to boo boo stinky fat-head, he has brought to us what people today would say "priceless." From companionship, to exploding with unconditional love, a guardian too many, designer shoe terrorizer, ahh..my wingman!!!

And I don't want to stop there, that would be unfair to my little "stinky pig nose," and at the end of my day I always end it with, "I love you boy."