Clipping the American Cocker Spaniel
By Manuel Villanueva, 2003, Updated 9/8/20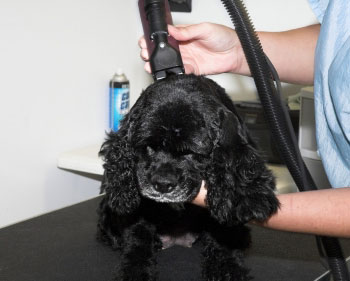 There's no denying American cocker spaniels have gorgeous long coats but they require frequent grooming. At the very least, a minimal amount of grooming is required for hygiene and safety. Insufficient grooming can lead to hair matting, soiling, skin irritation from feces and urine. Cockers can slip when foot pads are covered with hair. This is especially true for cockers with joint problems.
Pet owners can rely on trusted professional groomers or do their own grooming with proper instruction. Some groomers will let the owner observe and learn how to safely groom their own pet. There are instructional cocker spaniel grooming videos available online. Pet clippers, blades and grooming supplies are available from Amazon, PetEdge, Chewy and other sources.
Supplies
Large pin brush
Steel comb
Pet grooming clippers
#10 blade

⚠

Slicker brush
Ear powder (medicated)
Lanolin coat conditioner
#7 or 8½ blade

⚠

Matting comb

⚠

Nail clipper(guillotine type)

⚠

Scissors

⚠

Thinning shears

⚠

Artificial tears eye drops
⚠

Sharp instrument. Use with caution.
Where To Use
Item
Where
Large pin brush
Brushing the coat
Steel comb
Entire coat
#10 blade

about ½" around the anus (never directly on anus)
underneath tail
pelvis (navel to groin)
front neck
top upper ⅓ of ears (inside & out)
head

Slicker brush / Matting Comb
Removing mats
Ear powder
Inside of ears
Lanolin coat conditioner
Entire coat
#10 or 8½ or 7
Entire back & tail (from back neck to tail)
Nail clipper
Nails
Scissors

between pads of feet
leg feathering
feet

Thinning shears

blending uneven hair at shoulders and hindquarters with leg feathering
blending uneven hair on chest
under chest (if necessary)
front legs

Artificial tears eye drops
Use during and after clipping to remove any hair blown into the eyes
References
Kohl, S., & Goldstein, C. (1973). The all breed dog grooming guide. New York: Arco.
Maris, K. (2016). The Dog Grooming Business Course: How to Set Up and Run Your Own Dog Grooming Business. at Home. Mobile. Salon.. United States: AuthorHouse UK.