Approximate Weights & Daily Energy Requirements for Cocker Spaniel Puppies
By Manuel Villanueva, 2003, Updated 9/14/20
Values for male American cocker spaniel puppies. Compare with an intact adult male at 12.5 kg who requires 831 kcal/day.
Age (Months)
Expected Weight
Calorie Requirement
1
1.4 kg
3.08 lbs
208 kcal/day
2
3.0 kg
6.6 lbs
414 kcal/day
3
4.9 kg
10.78 lbs
637 kcal/day
4
6.75 kg
14.85 lbs
787 kcal/day
5
8.0 kg
17.6 lbs
785 kcal/day
6
9.25 kg
20.35 lbs
856 kcal/day
7
9.65 kg
21.23 lbs
802 kcal/day
12
11.9 kg
26.18 lbs
884 kcal/day
Values for female American cocker spaniel puppies. Compare with an intact adult female at 11 kg who requires 755 kcal/day.
Age (Months)
Expected Weight
Calorie Requirement
1
1.3 kg
2.86 lbs
194 kcal/day
2
2.7 kg
5.94 lbs
374 kcal/day
3
4.4 kg
9.68 lbs
577 kcal/day
4
6.0 kg
13.2 lbs
712 kcal/day
5
7.1 kg
15.62 lbs
716 kcal/day
6
8.2 kg
18.04 lbs
781 kcal/day
7
8.6 kg
18.92 lbs
727 kcal/day
12
10.5 kg
23.1 lbs
803 kcal/day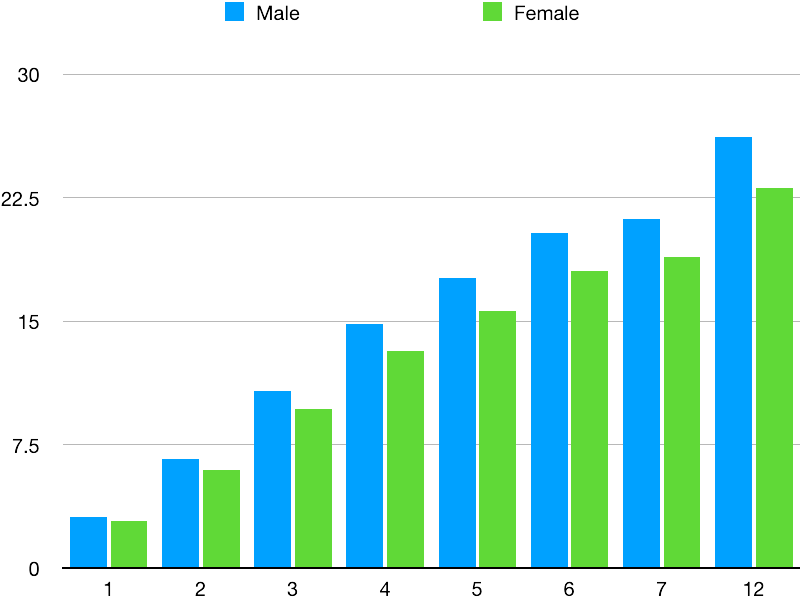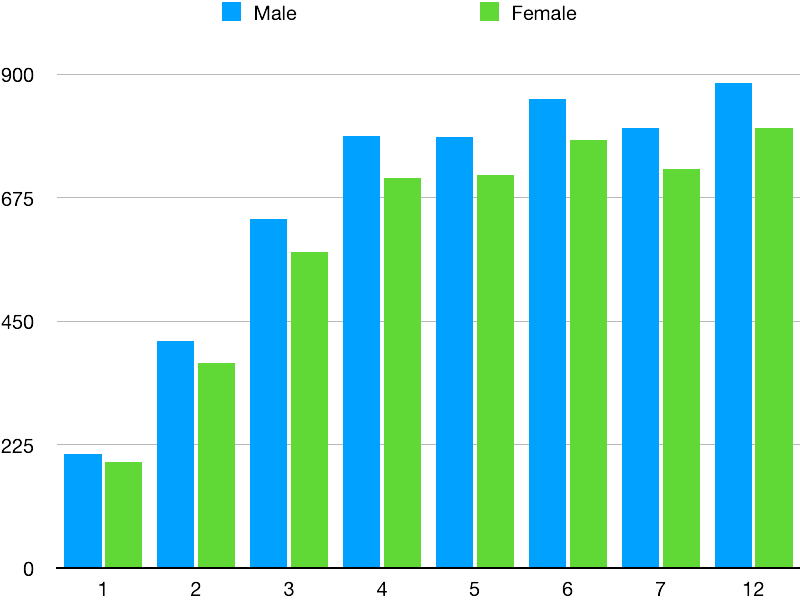 Values for male English cocker spaniel puppies. Compare with an intact adult male at 15.5 kg who requires 977 kcal/day.

| Age (Months) | Expected Weight | Calorie Requirement |
| --- | --- | --- |
| 1 | 1.4–1.6 kg | 208–234 kcal/day |
| 2 | 3.0–3.6 kg | 414–490 kcal/day |
| 3 | 4.9–5.95 kg | 637–752 kcal/day |
| 4 | 6.75–8.25 kg | 787–932 kcal/day |
| 5 | 8.0–9.7 kg | 785–915 kcal/day |
| 6 | 9.25–11.2 kg | 856–997 kcal/day |
| 7 | 9.65–11.75 kg | 802–943 kcal/day |
| 12 | 11.9–14.75 kg | 884–1039 kcal/day |
Values for female English cocker spaniel puppies. Compare with an intact adult female at 14.5 kg who requires 929 kcal/day.

| Age (Months) | Expected Weight | Calorie Requirement |
| --- | --- | --- |
| 1 | 1.4–1.55 kg | 203–226 kcal/day |
| 2 | 2.9–3.4 kg | 401–465 kcal/day |
| 3 | 4.7–5.6 kg | 617–714 kcal/day |
| 4 | 6.5–7.75 kg | 762–884 kcal/day |
| 5 | 7.7–9.15 kg | 762–873 kcal/day |
| 6 | 8.9–10.55 kg | 832–951 kcal/day |
| 7 | 9.3–11.05 kg | 777–897 kcal/day |
| 12 | 11.4–13.8 kg | 857–988 kcal/day |
Put It To Use
Most dog foods have a feeding chart to show you how much dog food your dog requires. Or you can figure it out yourself. Now that you know the daily calorie requirements of cocker spaniel puppies you can calculate how much dog food to feed them. For example, Hill's Science Diet Puppy Original has 375 kcal per 8oz cup. Use the any brand calculator on the Dog Food Calculator page to calculate how many cups to feed your cocker spaniel puppy.
Example
A 7 month old male American cocker spaniel meets his expected weight. How many cups of Hill's Science Puppy Original would he require?
Answer: According to the table above, a 7 month old male American cocker spaniel puppy requires 802 kcal/day. Using the any brand calculator, place 802 in the "kcal/day" box and 375 in the "kcal/cup" box. The answer is 2.1 cups per day. This amount is close to the recommendations of Hill's which is 2.5 cups per day.
Note: It must be emphasized the values found on this page are only estimates to provide approximate weights and daily caloric requirements.
Tables are based on information provided in Small Animal Clinical Nutrition where adult American cocker spaniel weights are listed as 12.5 kilograms for males and 11 kilograms for females; adult English cocker spaniels are listed as 12.5-15.5 kilograms for males and 12-14.5 kilograms for females. Expected weights and caloric requirements were averaged when necessary.
References
Hand, M. S., Thatcher, C. D., Rimillard, R. L., & Roudebush, P. (Eds.). (2000) Small Animal Clinical Nutrition. (4th ed.). Marceline, MO: Walsworth.