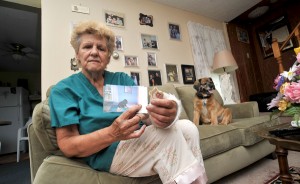 A seventy-year-old woman and her cocker spaniel were brutally attacked in their own yard in Rootstown, Ohio. Marie Hustead was in her front yard around 7:30 a.m. last Friday morning walking her two-year-old cocker spaniel Lucky when she noticed two pit bulls (American Staffordshire terriers) across the street. She lost sight of them for a brief instant. The next thing she saw was Lucky being savagely attacked by both pit bulls. Hustead screamed, "They're killing my dog, help him!" Desperately, she attempted to force them off Lucky when they began attacking her. Hustead was bitten multiple times before she ran inside her house retrieving a Swivel Sweeper. Unfortunately, the sweeper was of no use against the pit bulls.
By this time neighbor Vicky Spriggel heard the screams and came after the pit bulls with a log. She managed to chase them away. The pit bulls ran back to their home on Greenwood Road. Paramedics came and took Hustead to Robinson Memorial Hospital for treatment. Hustead believes she has between 20 – 40 stitches in both her hands and left arm.
Meanwhile, Lucky was taken by a neighbor to a local veterinary hospital and placed in critical care on a ventilator. After the vet explained the extent of Lucky's internal injuries, Hustead made the difficult decision of putting Lucky down fearing he would suffer. "Yesterday I couldn't stop crying, trying to come to terms with my little doggie…That was the best dog I ever had, the most loving. I couldn't believe it happened that quick."
Hustead had no idea pit bulls were in her neighborhood. Their owners had recently moved into town. "If we did know I would have been cautious," says Hustead. Hustead says her neighbors with small children and pets are now afraid.