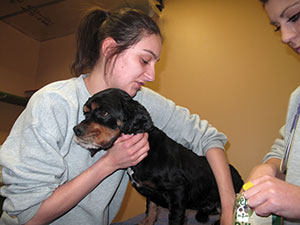 Mary Brodersen was ordered to reimburse Sac County $25,359.52 for the cost of maintaining the 87 cocker spaniels seized on January 25, 2012. The cocker spaniels were severely neglected and required veterinary care. Jane Clarke of the Cedar Valley Humane Society said their condition has "vastly" improved: "Just like people, when they start feeling better, their personalities start shining through." Clarke says they may be available for adoption in a couple weeks. "If you'd like to adopt these dogs, they're going to need a little extra TLC," Clarke said. "They're not used to being part of a family, but they're all very sweet."
Criminal charges are forthcoming. Sac County Attorney Ben Smith said charges can be filed for each individual animal when pets are involved.
Update: 2/11/12, 1150am
Mary Brodersen has agreed to give up ownership of the cocker spaniels allowing them to be put up for adoption.