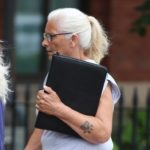 Margaret Greaves, a highly respected dog trainer and winner at Crufts, 2014, was recently convicted of animal suffering and neglect. Three of her dogs were so neglected they were euthanized by a tearful veterinarian.
A cocker spaniel 'with faeces dangling from his coat' had a 'depressed demeanour' and was 'shoved in a corner almost forgotten'
Greaves recent sentence includes a 3-year banned from having or caring for dogs. Her 12 week jail sentence was suspended.