Early
Cocker Spaniel of the Month: November 2004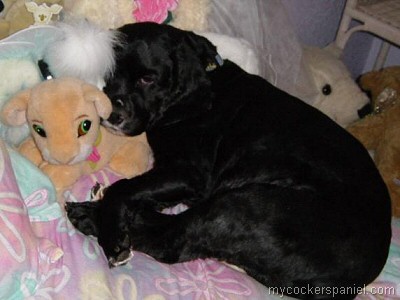 | | |
| --- | --- |
| Breed | American Cocker Spaniel |
| Sex | male |
| Age | 5 years |
| Location | Oklahoma City, OK |
Early's special is pretty unique, just like his name. When I was in fifth grade and my mom dropped me off at school, there was a Cocker Spaniel wandering around, who tried to follow me inside. I was pretty worried throughout the rest of the day about him. When I got into the car to go home that afternoon, I didn't know what a surprise I would be getting. I could tell by the way my mom was acting that something was up. One of my mom's friends had contacted her about the Cocker, and we were going to keep him! One of my school's secretaries suggested 'Early' for his name, since my school was Earlywine Elementary.
Early lives with two other Cockers, a Cocker mix, and a cat, and he makes sure the others know that he's the boss. He always has to 'protect' the grocery bags until my mom puts them away.
He loves to cuddle, as can be seen from the picture in which he is cuddling with my Nala stuffed animal! 
Cocker Spaniels of the Month: 2002-2008