Shadow
Cocker Spaniel of the Month: November 2003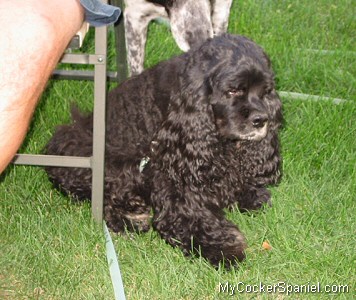 | | |
| --- | --- |
| Breed | American Cocker Spaniel |
| Sex | female |
| Age | 13 years |
| Location | Regina, SK (CA) |
Shadow came into our family in 1993 at the age of just over 2. Her first family could not take her with them to England and asked us to look after her for two years until their work assignment was complete. Knowing we would get too attached we offered to take her but only if it was for keeps. I will never forget the first time I saw Shadow. She was at the door peeking around her owner's legs and as soon as I got out of my car she came running to me. It was as though we were destined to be in each other's life.
Over the years and several different cars later, we now dread the day we have to say goodbye to Shadow. I have not been able to see her as much over the last 20 months following a transfer to Winnipeg where I live in an apartment that does not allow canine guests. Shadow lives in Regina with the other members of the family. I see her for a few days each month and on vacations. The first photo (not shown) was taken the night before I left Regina for my new life in Winnipeg. Shadow looks as though she knew something was changing. The second full body shot was taken in August 2003.
Before my move we went for daily walks, even in the winter at minus 25C temps. Shadow loves walks, and playing with a ball. The first time I went back home I had been away for 41 days, and Shadow got in the car and would not get out. I had to carry her into the house, and it took a few hours for her to settle down. But she knows when the suitcases come out. She gets very quiet and sulky.
This past summer Shadow started aging a lot. She is now quite deaf. A recent checkup at the vet gave her a clean bill of health. She was starting to wet at night so the vet prescribed a medication which seems to have worked. It has bought her a few more months.
I have read some of the memorials on Gabby's page. They are so moving.
God grant me the strength when it comes time to say Goodbye to Shadow.
Cocker Spaniels of the Month: 2002-2008