My Cocker Spaniel Memorial Archive
Emily
Emily was the light of my and hubby's life for 10 1/2 yrs. A year ago we lost her so suddenly to kidney disease that we did not know till it was to late. Age and heart disease made it hard for the flushing for a week at the Vets and it was not working. After a week of trying to save her life there was nothing in the medical field that could no longer help our little gal. Money or medical attention could not buy her health back. We missed and miss her to day sooo much. She is buried in a pet cemetery close by us with lots of her friends.
We love you Emily
Anita (aka HanerNaner)
Gomez
September 1990-January 22, 2007
American Cocker Spaniel Black
Oh sweetheart you will be truly missed each and everyday. Your spirit was amazing and huge. You brought so much happiness to our lives each and everyday. You gave us more love and affection than we could ever know. I met you six years ago, and from the first day
I met you were wonderful and sweet. You were the most adorable doggie I had ever seen. You filled me with so much happiness. Your Daddy had you for sixteen and a half years, and he loved you so much. You were his everything. You were there for him through many hard times and many many great times.
Gomez you will be missed each and everyday. You were one of a kind, a true friend through it all. I hope you have found a wonderful place in "doggie" heaven. Run free and chase squirrels my love. We love you Gomez. Till we meet again precious one!!
Love,
Daddy and Mommy
Hannah
Jan's Precious Hanna
Born: June 28, 1993
Died: January 23, 2004
Home: Portland, Oregon
Our beloved Hanna left us quietly the evening of January 28th. As she snuggled in my wife's arms, she had a little heart attack and slipped silently away. For days we couldn't look at one another without breaking down. For nearly eleven years she was an important part of each day. She had a strong presence. When she was young she would go on long trail runs, she hiked miles and miles of NW and Canadian trails. Where ever we went Hanna was always ready and eager to go along. She would squeeze into a little vented bag and ride quietly under the seat on Airliners. She had her very own seat in the back of the car. We can't quite bring ourselves to take the seat out now.
She loved to unwrap her packages at Christmas and birthday. She had more toys than most little rich girls. She saw my wife and I through difficult times. She knew our moods and would always knew just how to help us get past the problems of the day. She loved Mexican food and often enjoyed a small bowl of ice cream.
She was our child, and our best friend, and we miss her mightily.
Jan and Tom McKee
Herbert Mulligan Johnson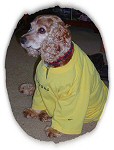 Herbie was truly a member of our family and everything you would want in a friend. Happy, energetic, ready and willing to do whatever was next. I had never seen a dog smile so much. Unfortunately, he developed cancer and quickly lost his physical fight but never the mental one. His little personality shined through all his discomfort. There are so many wonderful testimonials here that I wish I could put them all together and say that's how our family feels. All I know is that there is an endless hole in our hearts that cannot be filled but we take comfort knowing that he could not have been loved more and his was a life well lived. We were blessed to have had him in our lives and will truly miss him forever. Someone here said that when they die they want to go where dogs go. I like that..... Until we meet again my friend. Pops... :>(
Honey
October 16, 1991 - January 27, 2007
I lost Honey, my Cocker Spaniel, of 15 1/2 years last January. I wrote this poem for Honey as an expression of my love for her. I think the poem expresses how many people feel about their pets. The unconditional love a pet gives to their owner every day is really a miracle in and of itself.
"Teachers of Love"
Of course, no one could know you the way that I do. . .
You are subtle, like the air that paints the sky blue;
You are my wildflower where divinity grows;
My best teacher of love, as far as that goes.
Forever giving, you give without end. . .
The more love I ask for, the more love you spend.
Whether before my eyes or on my mind's shelf,
You are the very essence of Love itself.
Ann L. Ramsey, copyright 2007
(for you, Honey)
www.methetree.com
www.annsanimalartistry.com
Jasper
Jasper was well named. He was a jewel in our life. To my husband, my children and me, he was a special member of the family. We never knew a dog could be so mild, so gentle, so sweet. I always wanted an all black Cocker, and when we got our little 12 week old beauty, it was love. Jasper was with us for 15 years, and he was the best companion for my kids and us that we could ever have. Over the years he became blind and then deaf, but his communication skills were still intact, and he let us know that he loved us just as much as we loved him. It was a sad day when we had to make that awful decision, due to his having cancer that was obviously making him miserable. We were all in tears when we bade good-bye to our little gem and saw him off to "Rainbow Bridge" where I'm told all good doggies go...and he was the best.
Jessie Houghton
jessie houghton was born on june 23th 1993 and passed away april 4th 2003 from kidney failure we got her when she was 8 weeks old and she had her own little strong personality then we should of know she was going to be a handful!! she was a bundle of fun and mischief with lots of energy and she won our hearts from the beginning, we loved her so much, we used to take her to the beach and to the woods for long walks, we even took her on holidays with us for a week, she adored us all, that's why it breaks my heart to think that she's gone, but she will never be forgotten "our little jessie james" we will meet again in heaven until then enjoy yourself " all our love jessie your family forever the houghtons xxxxxxxxxxx